Lancaster Singers perform Allegri's Miserere for the Nepal earthquake appeal 11th May 2015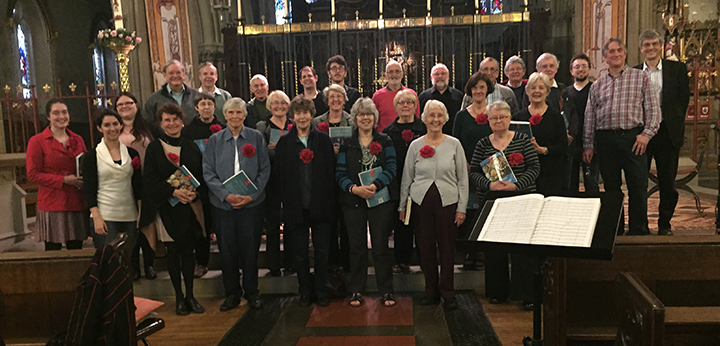 Choir member Katharine Howell asked if anyone was prepared to take part in a recording of Allegri's Miserere to raise funds for the DEC Nepal earthquake appeal. There was a good response and members of Lancaster Singers assembled in St Peter's Cathedral on May 11th to make a recording to sell for the appeal. Katharine says:
This time last year I was living in the lowlands of Nepal, by day measuring rice leaves for my Master's fieldwork and by night eating and dancing with the wonderful community I was living in. Nepal is a special place for me: it's where my parents met, as volunteers in the eighties, it's where we lived for part of my childhood and a place I keep coming up with research-based excuses to visit. Already a desperately poor country, Nepal has been devastated by the earthquake which hit it on 25th April, and its recovery will take a lot of time and support.
The wonderful choir I sing with, Lancaster Singers, have kindly agreed to record our rendition of Allegri's beautiful Miserere as a charity single in aid of the DEC Nepal Earthquake Appeal. It will be available soon for you to download in exchange for a donation. In the meantime, please feel free to give generously to the appeal, and in the words of my friends in Nepal (fortunately all safe): 'pray for Nepal' - and sing too!
The link, if you want to donate is: